Dental Exam in North Vancouver, BC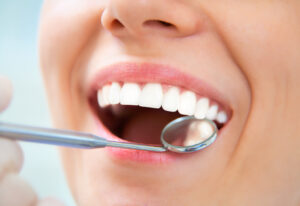 Unless you need an emergency dental procedure or you only have a specific question, at your first dental visit in our North Vancouver Lynn Valley office a complete dental exam will be done by our dentist. At that time and at following regular check-up exams, our dentist, hygienist and dental assistant will include:
Diagnostic x-rays (radiographs): to check for dental decay, tumors, cysts, bone loss or other potential bone abnormalities, tooth impactions, maxillary sinuses, jaw joints, etc…
Oral cancer screening: to check your face, neck, lips, tongue, throat, tissues, and gums for any signs of oral cancer using palpation as well as Velscope.
Gum disease evaluation: to check your gums and bone around your teeth for any signs of periodontal (gum) disease.
Examination of tooth surfaces: to check for decay with special dental instruments.
Examination of existing restorations: to check your fillings, crowns, veneers etc.
If you have not seen a dentist for a while or you think that you have a specific dental problem or if you have any other dental related questions, please contact our North Vancouver office.